With Formnext just a week away, many companies are announcing the launch of new additive manufacturing solutions. The international event in Frankfurt is the ideal opportunity to showcase the latest developments in 3D printing technologies, whether for design, manufacturing, materials or post-processing. One of the major companies that will be showcasing its solutions from November 15th-18th is Additive Manufacturing Technologies (AMT). Known for its PostPro brand dedicated to the development of automated post-processing systems for 3D printed parts, AMT is looking forward to demonstrating its potential to users during Formnext week. But what will we be able to see at the company's booth? And what are the new products they will be presenting at the show?
With booth D39 located in the center aisle of Hall 12.1, AMT will be alongside HP and other key 3D industry partners. The nearly 200 square meter area will be transformed into what is intended to be the "Digital Manufacturing Factory of the Future" concept, where they will showcase the future of post-processing for additive manufacturing. The AMT booth will also include the PostPro DP Max cleaning system, multiple SF chemical vapor smoothing solutions, meeting spaces and a stage where presentations will be held daily. In addition, they will be showing the revolutionary end-to-end integrated post processing system called the Digital Manufacturing System (DMS), and a groundbreaking new Polypropylene Surface Finishing system – PostPro SF PP. Not to be missed for attendees of the trade show!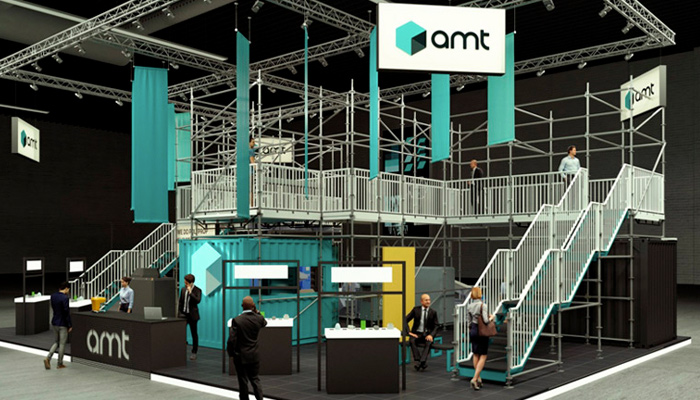 What is New From AMT at Formnext 2022?

One of the main new innovations to be presented by AMT during Formnext is the development of a new sustainable chemistry for vapor smoothing of 3D printed parts. Called PostPro Pure, this FDA-approved, patent-pending chemistry is now available for AMT's Surface Finishing (SF) systems from 2023. It is a green substitute that comes after several years of testing and research by the company's scientists. This innovative solution is key for AMT as it directly aligns with its environmental responsibility goals.
PostPro Pure is a fully green chemistry that is sustainably manufactured. It is non-toxic, non-halogenated, readily biodegradable, non-marine pollutant, food grade and has no regulatory restrictions. AMT's Head of R&D. Dr. Konstantin Rybalcenko states, "There is a distinct connection between additive manufacturing and sustainability, as it is an undeniably greener alternative to traditional manufacturing methods. The Additive Manufacturing community at large is the driving movement toward a more sustainable future for mass production, and AMT's systems and solutions are at the cutting edge of these efforts." All those attending Formnext will be able to visit AMT's booth to see the results of this surface finishing on parts in a wide range of industries.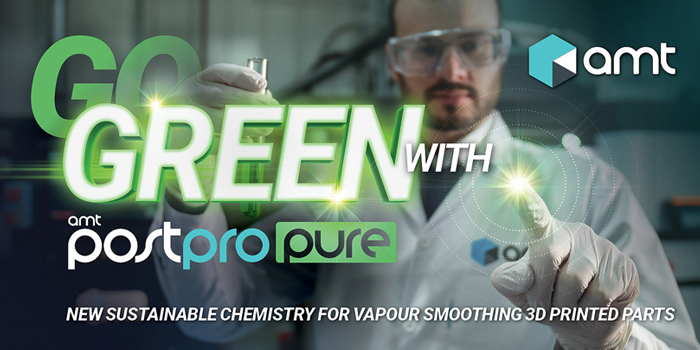 In addition, AMT will also unveil an update to its surface finishing systems created specifically for working with polypropylene. Abbreviated as PostPro SF PP, the vapor smoothing method has been redesigned to become the leading surface finishing solution for polypropylene. PostPro SF PP has already been tested and validated by the industry's leading material producers, including BASF Forward AM, Ricoh and AM Polymers. Indeed, this material and post-processing combination has already been successfully applied in medical applications, such as prosthetic devices, proving its effectiveness in highly regulated industries. As with Pure chemistry, AMT will feature PostPro SF PP on its booth at Formnext, with a wall entirely dedicated to the display of parts that have been smoothed using this technology.
Finally, the company will have the opportunity to show its End-to-End Digital Manufacturing System (DMS). As the name suggests, this is an integrated post processing system that enables serial manufacturing of 3D printed parts in one place. The system method includes automated depowdering, chemical vapor smoothing, and part sorting and inspection. Visitors to AMT's booth will get to experience a live robotic demonstration of AMT's complete end-to-end post-processing workflow.
A Unique Opportunity to Get to Know the Factory of the Future

Joseph Crabtree, AMT CEO and Founder, commented: "As the AM Industry transitions towards end part production at scale, it is super important that we provide solutions to our customers that enable them to successfully complete this journey. Our overriding vision is to enable 3D Printing as a true manufacturing technology, and the concepts that we are demonstrating at Formnext go a long way to showing how far we have come in achieving our vision. We look forward to welcoming you all to our booth next week."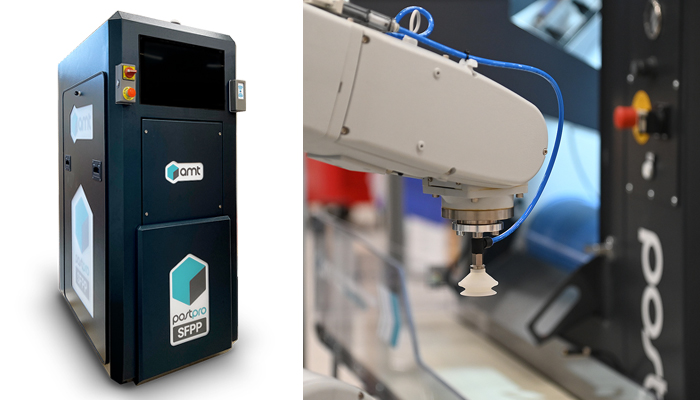 As we can see, there are many exciting products and applications to be found at the AMT booth (12.1 – D39) during Formnext. In addition to discovering these automated post-processing solutions, users will also be able to attend interesting talks given by the company's experts on their own stage. The topics they will address include product developments, studies and a range of applications from various industries. All of this is aimed at educating and informing attendees about the technology AMT offers, as well as demonstrating the power of PostPro in the additive manufacturing sector. Finally, AMT will be hosting its second Offsite Networking Event at the Chinaski Club on the evening of Wednesday 16th November. If you are interested in attending, then please sign-up HERE. More information about the company and its presence at Formnext can be found HERE.
*Cover Photo: AMT's DMS – Automated robotic parts handling (photo credits: AMT).