Optomec, a company that has been developing AM solutions since 1997, has recorded more than 10 million turbine blade repairs using its metal additive manufacturing technology following a recent customer survey. The company explains that all leading gas turbine OEMs have installed Optomec AM systems for both aircraft engines in the Aerospace sector and power generation in the Energy sector. In these sectors, additive manufacturing technologies have enabled to improve efficiency of design, but also of costs. Optomec's technology, based on Directed Energy Deposition (DED) is used to repair parts that would have been very expensive to manufacture from scratch.
Their solutions include the Huffman and LENS systems, both based on DED. Directed Energy Deposition is a complex technique that enables repairing or adding additional material to existing components. To do so, it uses a focused energy source, usually a laser or electron beam, to melt a metal that is being deposited through the machine's nozzle. Optomec explains that common production applications include the repair of turbine blade tips, seals and wear surfaces, compressor blades, vanes, shrouds and other high value components. Compared to manual operations, the company estimates that the ROI is in excess of 180%.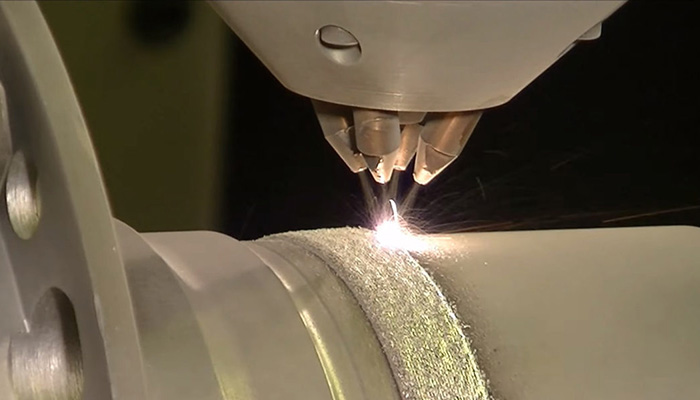 Of course, these numbers and claims must be taken with a grain of salt as customers have not spoken in detail about using the manufacturer's technology. Nevertheless, knowing the benefits of 3D printing, especially for low-volume or on-demand production, it is no surprise that the more unique a piece is, the more it makes sense to use AM instead of conventional manufacturing techniques such as molds. In the aerospace sector for example, market studies point to the fact that this industry will increasingly use traditional and additive technologies to leverage the benefits of both.
Mike Dean, Marketing Director at Optomec comments: "We are really excited to reach this important milestone for both the Additive Manufacturing segment and, more importantly, for our gas turbine customers. Chances are that if you fly much, you've probably flown with an engine that was maintained with an Optomec laser cladder." The LENS system uses a high-power laser to fuse powdered metals such as titanium, nickel, stainless steel, cobalt, etc. Other benefits customers cite are: 1) proprietary vision and adaptive control software 2) controlled inert atmosphere processing for superior metallurgy 3) turn-key repair process recipes and 4) automation solutions that enable higher throughput batch processing. You can find more information HERE.