American pool company San Juan Pools recently unveiled what it claims to be the first-ever 3D printed fiberglass pool. In a late segment of the TV morning show Fox and Friends, the pool was presented for the first time on American television. The Florida-based pool manufacturer says the pool is made of recyclable material and eco-friendly. 
Additive manufacturing continues to explore new possibilities at a fast pace, enabling innovative projects and the 3D printing of objects, houses, food, and much more. The steadily advancing technologies give companies, facilities, and foundations the ability to create almost anything in a more sustainable, environmentally friendly way. San Juan Pools is a third-generation family-owned company that was the first company ever to apply fiberglass to a full-body swimming pool. The company, which was founded in 1963 in Seattle, Washington, used techniques adapted from boat hull construction to create the pools. Because the company always seeks to use innovative technologies to ensure a high quality of its products, it turned to additive manufacturing to produce its latest pool model, which happens to be the first-ever 3D-printed swimming pool.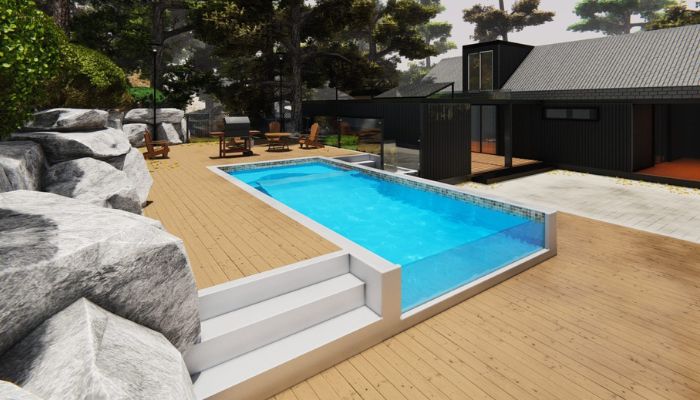 When San Juan Pools searched for a way to reduce labor, time, and production costs for its newest pool project, the company got in contact with Alpha Additive, a company also based in Florida that offers large-scale custom-made 3D printers, who provided them with a machine that was able to meet their demands. The materials used for the 3D printing process are a special Vinyl Esther Resin and fiberglass. Although the company hasn't given any information on what technology was used and which parts were 3D printed in particular, we assume that the main body of the pool was printed, using Fused deposition modeling (FDM) technology. The finished, 3D printed pool, the Baja Beach model, measures 12'x 25' and has a dept of 3'. The facade has a 12' long acrylic glass window, and in the back part is a separate jacuzzi section that can be heated up. The front part of it is hardly meant for actual swimming, but the relatively shallow pool is optimal for children to paddle around and for adults who just want to cool down and relax in the water.  
A New, Eco-friendly Solution 

The possibility of a 3D printed alternative to the traditionally manufactured fiberglass pools would be especially beneficial for the environment. The process, which is similar to manufacturing fiberglass boat hulls, involves toxic chemicals and unrecyclable materials which weigh hard on the planet's ecosystem. Another problem with the traditional process is that it demands a large number of workers and takes months to complete. In contrast to that, the 3D printed solution uses sustainable materials and is finished in a matter of days without demanding a lot of employees.  
During its first public presentation on TV during the Fox and Friends morning show, the show's home-improvement expert, Skip Bedell, also pointed out that the pool can be custom made and be offered in any shape desired by the customer, explaining that, "The best thing about the print is they can make it any shape they want, It's really genius." For those who would like to buy one of these 3D printed pools, the pricing on San Juan's pools ranges from around $17,000 to around $38,000. To find out more, visit the company's website HERE.
*Cover Photo Credits: San Juan Pools