Known for having been one of the pioneers in the production of all-in-one 3D printers, combining 3D printing, engraving and laser cutting, the Polish manufacturer Zmorph announced at the end of 2020 its repositioning into the niche of professional FFF machines. A few months ago, the manufacturer unveiled its first industrial 3D printer, the Zmorph i500. Now available in France through its official distributor Atome3D, we learned more about its technical characteristics.
A Smart Machine for a Simplified Printing Workflow

With the i500, Zmorph wanted to ease user experience by offering a simplified workflow thanks to a multitude of sensors. The machine ensures automatic leveling and Z alignment of the two print heads thanks to force sensors located at the hotends (which allows a measurement directly at the nozzle). These sensors are coupled with a nozzle lifting system to ensure optimal first layer deposition and trouble-free multi-material printing.
Moreover, the 3D printer incorporates a wire brush system combined with a filament garbage collector to clean the nozzles during printing. The machine is also designed to protect the user during the printing process, with a locked printing enclosure during operation and a HEPA filtration system integrated into the machine to purify the air. Finally, the machine includes a dedicated storage area for materials to protect them from the outside environment to ensure optimal printing results. This filament drawer is equipped with RFID readers for automatic identification of proprietary filaments.
In addition to the sensors and other useful accessories during the printing, the machine can be connected via Internet to Zmorph Hub, a tool allowing for control and monitoring among other things to supervise prints thanks to a camera integrated into the machine. This tool can be coupled in particular with the slicer Voxelizer and the optimization tool Divid, two software developed by the Polish manufacturer and conceived especially to function with the machine. Despite all the smart features on board the i500, Zmorph also offers tutorials from its website and YouTube channel as well as a database of available firmware manuals.
Robust Components for a Machine Dedicated to Professionals

Considering its technical characteristics and its selling price of €6,699 (not including VAT), it is clear that the Zmorph i500 is directed towards professionals. It is a large format printer (703 x 507 x 1075 mm) benefiting from a large printing volume (460 x 300 x 500 mm in simple extrusion and 440 x 300 x 500 in bi-extrusion). Thus, the i500 is composed of an aluminum Unibody frame while the Cartesian motion system uses linear rails from IKO/IGUS. The machine is based on two full metal hotends capable of reaching printing temperatures of around 300°C (a 0.4 mm "build" hotend and a 0.6 mm "support" hotend), associated with a heating plate up to 130°C and a fully enclosed chamber that locks automatically during printing. Coupled with a dual extrusion system, the 3D printer is capable of printing a wide portfolio of materials, ranging from PLA to Nylon, as well as soluble filaments for supports.
Despite its robust and proven components, the i500 is not immune to maintenance, but Zmorph has made sure to make parts easily accessible and replaceable (several spare parts are available). Moreover, thanks to its sensors, the machine is able to prevent or spot certain breakdowns and informs the user of the parts to be replaced via the integrated touch screen.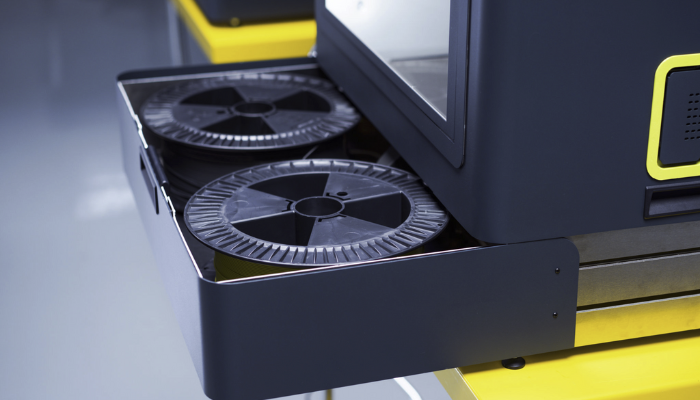 To ensure distribution and support for the French market, Zmorph has signed a strategic partnership with Atome3D, a Toulouse-based distributor founded in 2016, which has quickly established itself as one of the leading players and today presents a large catalog of solutions dedicated to 3D printing. To learn more about the Zmorph i500 3D printer, visit the French reseller Atome3D's website HERE.