It is becoming increasingly evident that additive manufacturing has a pivotal role to play within the medical sector. This is largely due to the ability to create and customize solutions tailored to each individual. From bioprinting projects for tissue development to medical devices such as 3D printed implants, prostheses or orthoses. The latter, unlike 3D printed prostheses, have the function of medical supports that help modify and restore functional aspects of the neuromusculoskeletal system. Thus, orthoses are able to stabilize, relieve, immobilize, guide or correct a damaged part of the body. Since the morphology of each patient is different, the use of 3D printing is ideal for designing these unique devices adapted to each patient. Therefore, on this occasion we wanted to compile some of the most outstanding orthosis projects to date.
POHLIG GmbH's SimBrace Technology

Pohlig is a manufacturer of orthotics for different parts of the body. Whether it is for a hand, a leg or even the chest, the company has a wide range of choices for its customers. In addition, Pohlig has created the SimBrace technology. This innovation is a 3D scanning process developed for patients. It adjusts the shape and position of the brace according to the patient's morphology. The part is then 3D printed with FDM technology for prototypes, while the final products will use powder sintering. Once the part is given to the patient, the company accompanies them to improve their adaptation with the orthosis, especially for the legs.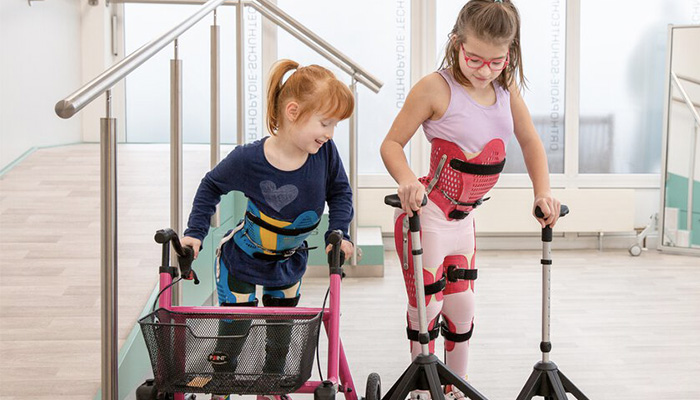 OT4 Orthopädietechnik

OT4 Orthopädietechnik is a German company that is part of the Streifeneder Group. It specializes in the manufacture of patient-specific orthotics. Each component is designed using modern tools, including Multi Jet Fusion technology. This printing process allows for the production of custom-made products and easy modifications. OT4 Orthopädietechnik designs devices for various parts of the body: the face, head, arms and joints. The technology used offers advantages in terms of weight, quality and reproducibility. Together with its partner craft companies, the company combines the strengths of craftsmanship and digital manufacturing to create reliable products.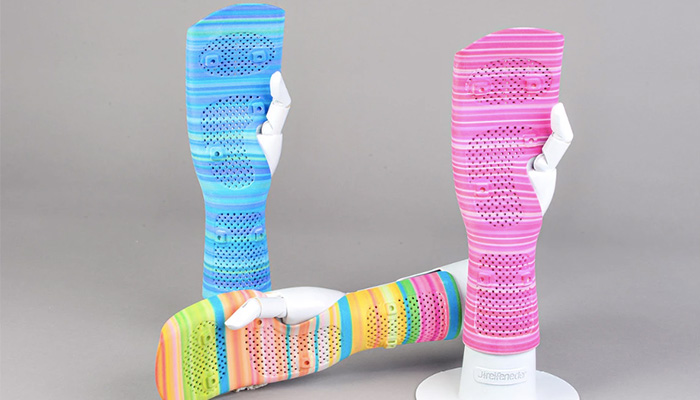 Custom-made Orthotics with Chabloz Orthopedics

Chabloz Orthopedics is a French company specializing in the design and production of custom-made orthotics for upper and lower limbs. Among the 3D printed parts, it manufactures helmets to fight against plagiocephaly, a skull deformity in infants. In addition, Chabloz Orthopedics differentiates between two types of orthoses for the lower limbs: posture orthoses and walking orthoses. The first is used to compensate for a disability of the lower limb, while the second can be used in addition to walking aids to improve the fluidity of the joints. The company uses HP Multi Jet Fusion printers to accelerate the manufacturing process.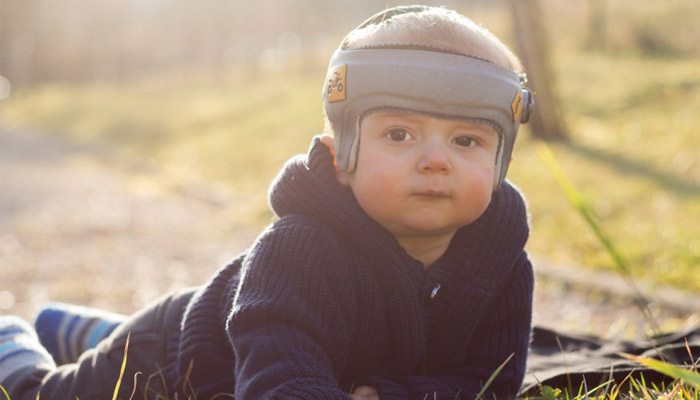 ScientiFeet, making 3D printed insoles

ScientiFeet is a French solution, created in January 2016 by PODO 3D (itself a subsidiary of Prodways group, a French 3D printing company), and is one of the leaders in the production of 3D printed insoles. Their solution is intended for practitioners to provide a personalised and unique product to patients. Thanks to their 3D scanner, they are able to create a very precise and custom 3D footprint which provides a high-degree of accuracy and completely new production possibilities at a better cost. The process takes just 4 steps: first, the podiatrist takes a scan of the foot using the Podoclic 3D scanner. Then, they model the scan on the Scientifeet software, which is then used to design 3D soles. These soles are designed with a specific size, thickness and arch height in mind. They are outsourced to the Prodways fleet of printers, which print them in PA12 material; the finished product is delivered to the practitioner's office in just 5 days. Furthermore, the Scientifeet solution can also be installed in practitioners" offices, with Scientifeet offering expert advice and periodic training on the equipment.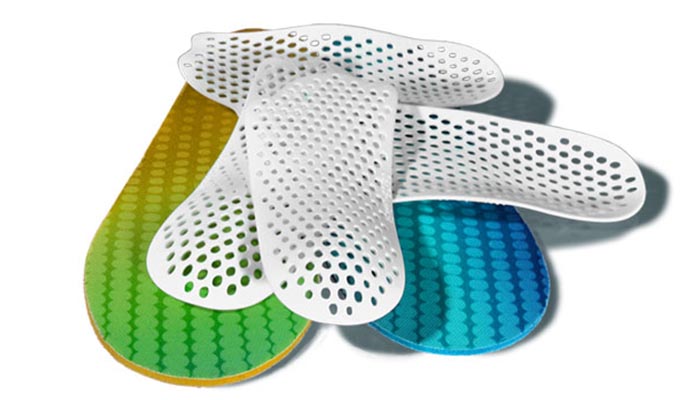 Invent Medical, Custom-made Orthotics for Sport and More

Invent Medical is a UK-based firm which has been successfully 3D printing since 2010 to offer solutions for the orthotic and prosthetic field. They cooperate with doctors, clinicians and universities to offer durable and attractive solutions. They offer cranial remoulding helmets (as in the image below), ankle foot orthosis, prosthetic sockets, insoles and face masks, and future projects will include arm and adult orthoses. The uses for these products include sport injuries, prosthetic limbs and to treat abnormalities. Their Invent Medical Configurator is an easy to use software tool that helps you design your orthotic and prosthetic product in a matter of minutes. Then, using 3D and 2D scanners, they ensure that the product fits the patient perfectly before sending the data to a HP industrial printer for 3D printing. Their products are comfortable and aesthetically pleasing, as well as being custom-made to each product.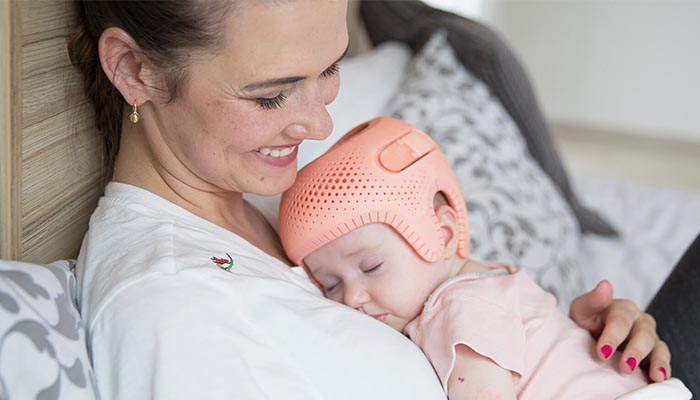 Xkelet Scans and 3D Prints Orthoses

The Spanish company Xkelet has developed a system capable of scanning and manufacturing orthoses adapted to the morphology and needs of each patient. These allow the immobilization of the upper and lower extremities to solve the problems derived from traditional systems such as plaster, fiberglass, thermoplastics and orthopedic products. In particular, they have an application for cell phones that allows them to obtain data and 3D scan the design of the orthosis in a matter of seconds. Then, thanks to their partnership with Photocentric, they can use resin 3D printing to create customized orthoses on demand. This results in a unique orthosis that is much lighter than traditional plaster options. You can see the live scan solution below:
Korthotics Nylon Orthoses
Korthotics is a Sydney-based provider of orthotic solutions, with 40+ years of experience in making and delivering custom orthoses. They offer a range of products made using their 3D Systems ProX SLS 6100 Printer, an industrial grade SLS printer; their material of choice is nylon-11. Nylon is absorbent, strong, and lightweight, which allows them to create high-quality products with minimal waste. These products include custom-made orthoses including feet, cranial helmets, knee braces, and ankle-foot orthoses. All of these products are manufactured at their facility in Sydney. Outside of 3D printing, their DM Orthotics (DMO®) brand offers elastomeric fabric orthoses for a range of conditions including cerebral palsy, scoliosis, strokes and Downs Syndrome, among others.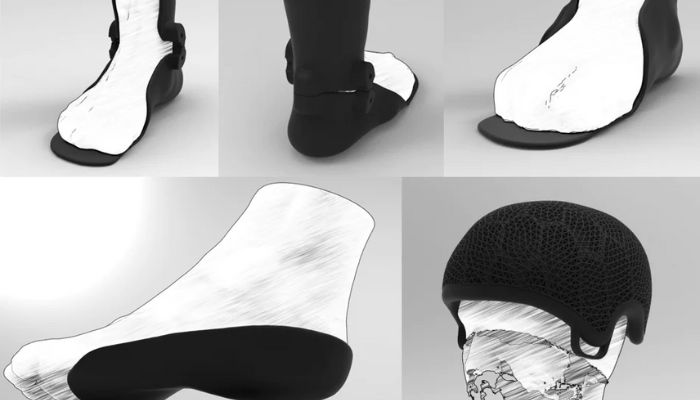 Think3DDD: For People And Animals

Berlin-based Think3DDD, founded by Tino Jacobi and Leonardo Lauer, focus on orthotics for humans as well as animals. With their 3D-printed solution, called Orthimale, the Think3DDD team wanted their orthosis to primarily combat problems such as a heavy cast, itching and annoying sutures. Here's how it's made: After the 3D scan via smartphone of the body part for which the orthosis is intended, it is created in collaboration with the treating physician, tested and 3D-printed using the FFF process. Once the treatment is finished, the orthosis is either recycled or even composted by Think3DDD, so there is no additional environmental impact.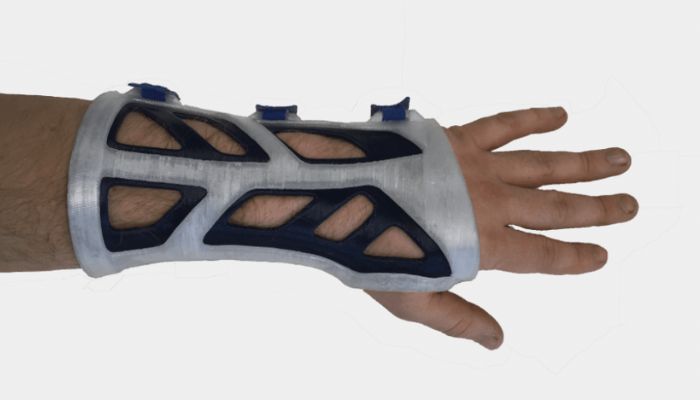 Wypro Makes Orthopaedic Insoles

Wypro, run by Dr. Pablo Marin, a podiatrist specialized in mechanics and also CEO of the company, has focused on the production of orthopaedic insoles since their foundation in 2019. For this, Wypro uses a 3D laser scanner that they developed in 2017 for the podiatry and orthopaedics sector. The advantages that the Spanish company sees in this are, on the one hand, speed and accuracy, but on the other hand, the fact that the professional can correct the foot before the scan and place it in an optimal position. Once the 3D scan has been made, it is then printed for the orthopaedic insole using the SLS process.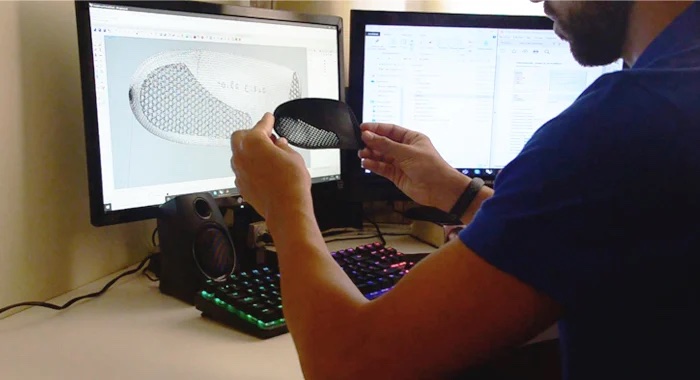 WASP Back Corset

Who among us has not heard of scoliosis? The sideways curvature of the spine is often diagnosed in children or adolescents and can be debilitating if it is not treated properly before growth. Indeed, it is estimated to affect about 2-3 percent of the population of the world, with an estimated six to nine million people in the United States alone. But the treatment is often an uncomfortable and expensive orthopaedic corset. Luckily, 3D printing could provide a better solution. Lelio Leoncini, along with Italian 3D printing company WASP, has created 3D printed corsets, made out of polypropylene, which can provide solutions for even serious cases, such as patients who need busts with a complex shape or head support in addition to the bust. They also offer the possibility to design in 360° in order to create tailor-made solutions, allowing for all kinds of shapes including for children with breathing or walking difficulties.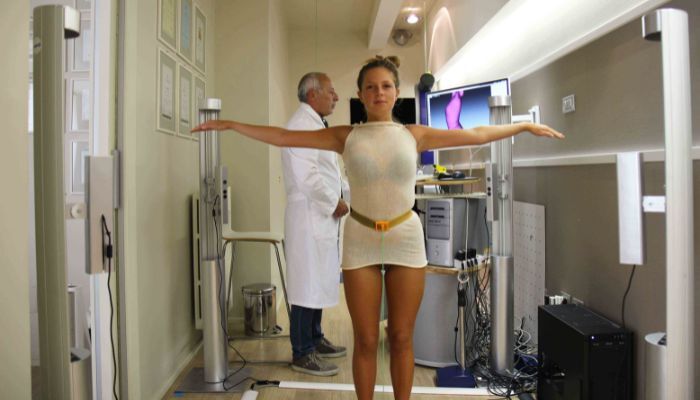 ActivArmor Offers Waterproof, 3D Printed Casts and Splints

One of the most common orthotics that we see out in the world are of course casts and splints. For anyone who may have broken a bone, these heavy and inconvenient casts can be a true burden while you are healing. Luckily, they are not the only option. American company ActivArmor offers 3D printed, waterproof, breathable, sanitizable plastic casts which allow users to maintain their active lifestyles while staying safe. Currently, not only is ActivArmor the only commercially available, 3D printed custom splint in the USA, but it is listed with the FDA as a Class 1 splint as well as ISO-10993 certified for biocompatibility.