Today, more and more companies are developing composite materials for additive manufacturing, enabling the design of lighter and stronger parts. However, these materials can have a negative impact on the environment as they are often made from a plastic matrix. That's why Aalto University in Finland is conducting research to devise new sustainable bio-based polymer materials to replace conventional fossil-based plastics and composites. These new materials and their processing techniques will enable fully sustainable and circular 3D printing in the near future. We met with Jukka Seppälä, the professor who, together with the university's additive manufacturing lab, is conducting research on this topic as part of the ValueBioMat project.
3DN: Could you briefly introduce yourself and your connection to 3D printing?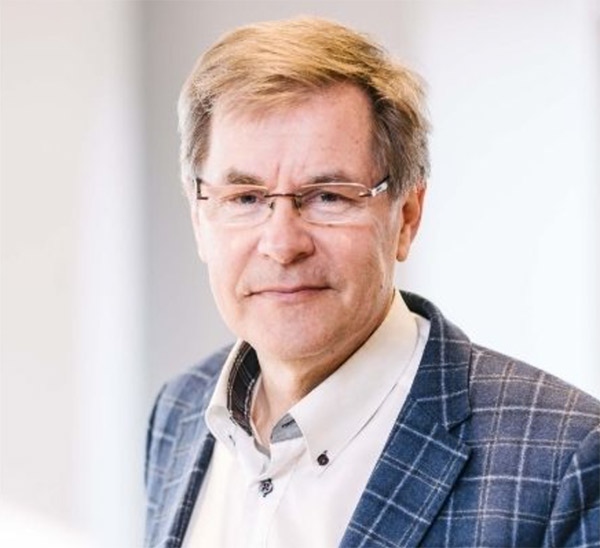 My name is Jukka Seppälä and I am a professor of polymer technology at Aalto University in Finland. The profile of my laboratory is focused on polymer synthesis and polymer reaction engineering. We are interested in understanding the structure/property relationships of polymers and adapting plastics to meet important and demanding applications. For years, we have been at the forefront of the development of bio-based polymers and plastics. This has also led us to focus on advanced and emerging processing techniques, such as additive manufacturing. These techniques offer great opportunities to manufacture optimized structures in a new and material-efficient way. Thus, additive manufacturing, in combination with new sustainable and bio-based polymeric materials, can be a big step towards more environmentally sustainable material solutions. At Aalto University, the expert in additive manufacturing is Professor Jouni Partanen and we work closely with him in his manufacturing laboratory, ADDLAB.
3DN: How was the ValueBioMat project born? What is its mission?

ValueBiomat's mission is to promote sustainability through legislative and policy actions by developing appropriate frameworks that encourage developments in biomaterials production and services, proportionately regulate the protection of and access to industry data and design files, and support cooperation among stakeholders by developing new models of innovation and governance of business networks.
We are also investigating and developing viable, high-throughput synthesis routes from fatty acids to polymerizable monomers such as di-carboxylic acids, and examining the possibilities of synthesizing biologically derived long-chain polyamides, polyesters, and polyurethanes, as well as their structure-property correlations with material properties. Synthesized biopolymer-reinforced composites with chemical compatibilization are the key technology for discovering optimal long fiber-containing composite materials for printing processes and for developing appropriate processes for these composites. Finally, we evaluate the environmental, social and ethical impact of our solutions for the benefit of society.
3DN: What are the main benefits of turning bio-oils into composites for 3D printing?

Bio-oils are a new and emerging source of renewable feedstock for the production of fuels and polymeric materials. Commercial bio-oils based on polyamides are currently available. In our research, we have developed long-chain polyamides with optimal properties, especially in combination with bio-based fillers and reinforcing fibers, to make thermoplastic biocomposites. The problems we have been able to solve concern how to avoid the degradation of heat-sensitive bioparticles. To this end, we have developed specific low-melting polyamides, which are essentially based on biological raw materials. These advances have enabled us to create new and interesting biobased composites to replace conventional fossil-based plastics and composites.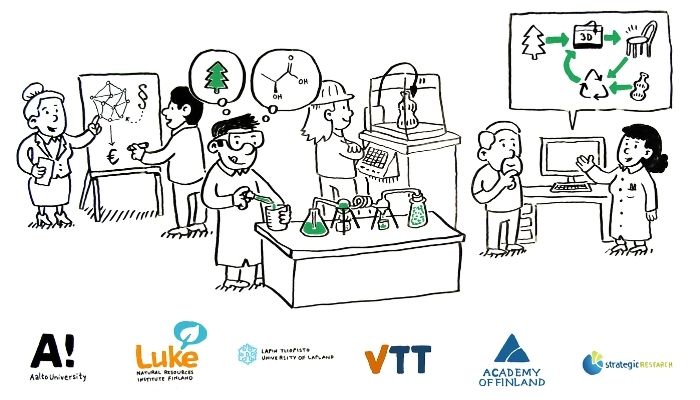 3DN: Could you tell us a little more about the 3D printing process you use?

We have been working with stereolithography in additive manufacturing, where the key parameter is to ensure the correct and fast chemical curing of the resin. This also includes the chemical bonding between the layers, so that a seamless 3D network is finally formed, i.e. a final result without layers is achieved. There are devices that have been developed exactly for this purpose. Instead of the printing plate moving in height intervals (e.g. 50 µm), it moves slowly and continuously while the photo cross linking takes place, resulting in a layer-free structure. Another approach, which we have implemented, is to 3D print pre-designed molds that in another step are used to cast the objects. In this case, the actual object also has no layers.
3DN: How does ValueBioMat see the future of renewable and circular plastics in 3D printing?

We are convinced that 3D printing offers new possibilities for optimized product design to reduce material consumption. In addition, digital manufacturing with distributed 3D printers offers on-demand production at the point of use. There are also different scales to consider, from desktop 3D printing to robotic additive manufacturing of very large objects.
3DN: Any last words for our readers?

New materials and their processing techniques are in a key position to enable sustainability and circularity in the near future. To put this into practice, we need not only technical solutions but also a science-based understanding of the entire life cycle value chain up to the end-of-life patterns of products. In this regard, new business models need incentives and regulations. I am sure that producers and consumers are willing to do so. This is the main mission of the ValueBiomat project.
*Cover Photo Credits: Aalto University