This year, we have already seen a number of projects within the construction industry that have used additive manufacturing. Whether remarkable for its height, quantity or sustainability, these types of projects can benefit significantly from the advantages of 3D printing. Now, however, we're also talking about the speed at which three whole houses have been 3D printed. Notably, it took a very short period of time – eight days to be exact. The two players that implemented this building project in Sezad, Oman, are GUtech and COBOD. The three new buildings are located in the economic zone of the city and will be used as a coffee shop, public toilet and fishing house in the future.
While COBOD is already a well-known face in the additive construction world with large projects such as wind turbines or even the world's tallest 3D-printed building, GUtech is the German University of Technology in Oman, which is affiliated with RWTH Aachen University. Since its foundation in 2007, GUtech has set itself the goal to support the interlectual exchange between Oman and Germany with students from all backgrounds. And for 3D printing fans, you may already be familiar with GUtech, because last December they were one of the players who produced the largest 3D-printed building at that time. This building was 190 m2 and cost just $2,000 for the concrete material. This latest project also has world record potential, as no one has been able to 3D print three buildings on site in just a few days before, with what COBOD says is a "combination of minimal labor and very low cost for concrete materials."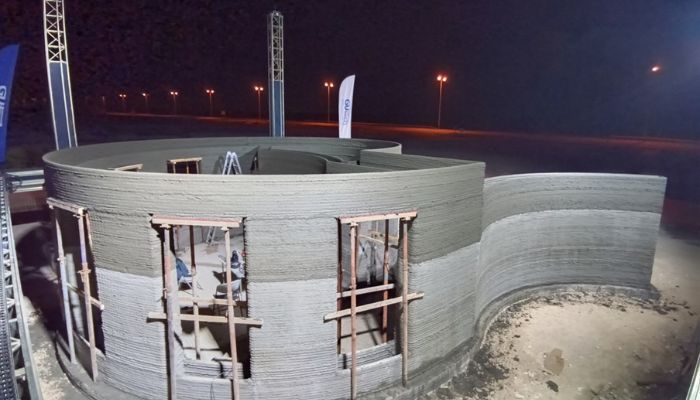 The World's First 3D Printed Café and Other Buildings

Not only is the time it took to produce the three buildings a novelty, but also a very special building was also included. The coffee shop is the world's first 3D-printed café, taking just 22 hours to complete. As for the public toilet and the fisherman's house, these were printed in 13 and 19 hours respectively; however when you include the total time taken to place the printer, it comes to a total of eight days. However, the fact that additive manufacturing is not only known for fast production, but also for other advantages within the construction industry, is also shown by the size and cost ratios, as these amount to just 3,600 US dollars for 173 m2.
With a daily working time of eight hours, thanks to COBOD's 3D printers, the GUtech team managed to produce a base area of 81 m2 for the coffee shop, with a height of 3.7 m and a total material consumption of 19.6 m3 of concrete, which was produced almost entirely from locally available resources. The toilet open to the public, on the other hand, has a surface area of 20 m2 and a height of 3.5 m, which was produced within 13 hours. This construction required just 10.6 m3 of concrete. Finally, the last 3D-printed building, the Fisherman's House, which is part of the world record-breaking project by COBOD and GUtech: this one has an area of 72 m2. The single-story building with a height of 3 m was produced in 19 hours – divided into two days – using 17.3 m3 of concrete. All these three buildings have load-bearing walls without supports, as well as roof panels and parapets made by 3D printer.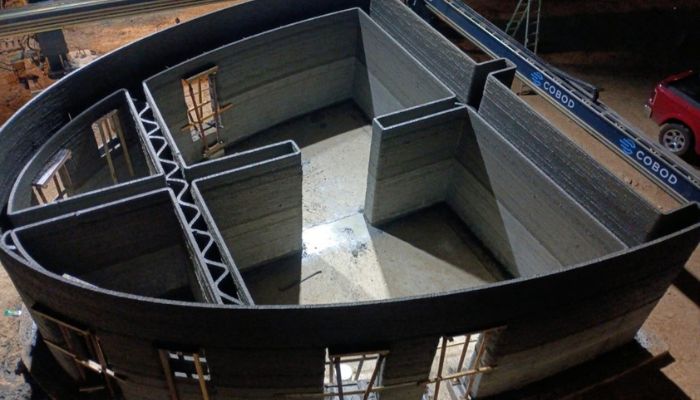 The new 3D-printed buildings, which are located in the economic zone – in detail in Duqm – were also supported by the general contractor Teejan, in addition to the 3D printers from COBOD. The location of the new 3D-printed buildings was chosen with care, as Duqm is a new development area consisting of economic zones, tourism and development zones, a multi-purpose port, a dry dock for ship repair, a fishing port and a regional airport, as well as other tourist, industrial and logistical areas. The team around Zaid Marmash, lead architect and responsible for the Middle East at COBOD, is visibly proud of the result, as he let understand: I am proud to have co-designed the buildings 3D printed by GUtech and approved in Duqm. With the use of curves and unconventional shapes, the buildings match the futuristic and aspirational nature of Duqm. 3D concrete printing, as well as Duqm, are both very promising, and GUtech is providing the proof that the promises are being realized." You can learn more about the project HERE.
*Cover Photo Credits: COBOD