Oris, a Swiss-based brand, has unveiled its new limited edition watch, the 'Coulson Limited Edition', in partnership with Coulson Aviation, a Canadian company that specializes in aerial forest fire suppression. The watch was designed to pay tribute to this organization that sends pilots, planes and equipment to the regions of the world affected by these disasters. Coulson Aviation's goal is to help firefighters on the ground and to protect the public and the environment.
The Oris watch was made using additive manufacturing. Indeed, it has a carbon fiber case produced through a 3D printing process. To design it, 9T Labs, a company that has developed a 3D printing method to create structures with carbon composites, was chosen. It used its Red Series solution, a 3D printer that allows for high volume manufacturing. The process simultaneously prints carbon fiber and a high-performance polymer, PEKK. Mixed together, the components create a lightweight, rigid material. According to Ulrich W. Herzog, president of Oris, "Our new watch features a 3D printing technique never before used in watchmaking.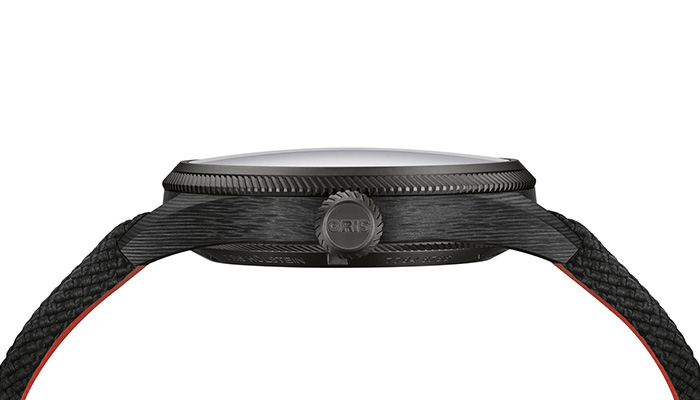 3D Printing Has Enabled the Production of 1,000 Watches

The use of 3D printing to manufacture the Coulson watch has provided certain benefits compared to traditional methods. Oris wanted to create a model that is both resistant and environmentally responsible, and 3D printing technology allows for better resource management, thus limiting waste. With 9T Labs, the Swiss brand was able to produce 1,000 watches with the exact resource quantity needed for each model. In terms of design, the dial offers us a bright orange aptly reminiscent of fire. The case, meanwhile, offers a sleek black and a round shape. For more details on the watch, you can click HERE.
Oris is not the only brand to take advantage of additive manufacturing for watch design. Sychronos has launched its collection of 3D printed watches, made using DMLS. this technology is less used compared to sectors like jewelry or accessories. With the rise of 3D printing, watch designers should turn to this process to design products faster, while conversing good quality.